In the 1970s, Jaclyn Smith rose to fame as a trailblazing celebrity, starring in the iconic television series Charlie's Angels. Since then, the Houston-born actress has established herself as a successful businesswoman and an inspiration to millions.
Although Jaclyn's portrayal of Kelly Garrett captivated audiences worldwide in the 1970s, she continues to be a fascinating and motivational figure even today.
With over four decades of experience in the entertainment industry, Jaclyn has garnered numerous awards and remained in the public eye for many years. However, what truly sets her apart from many of her Hollywood peers is her unwavering commitment to her values, including a deep love for her family and a dedication to helping people worldwide through various charitable foundations.
In addition to her impressive career accomplishments, Jaclyn has been blessed with a beautiful family that includes both children and grandchildren. At the age of 76, she remains an inspiration to many.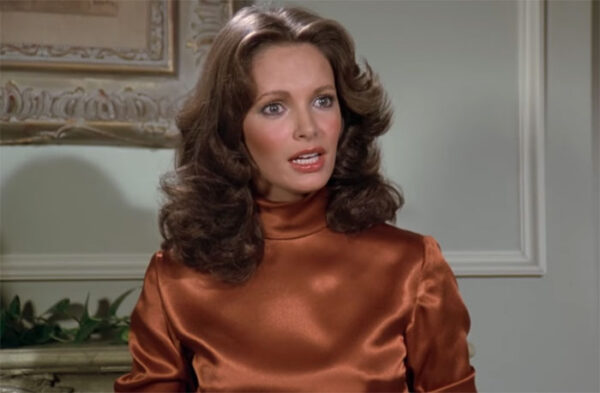 Jaclyn Smith life
Born as Jacquelyn Ellen Smith on October 26, 1945 in Houston, Texas, Jaclyn Smith began pursuing her passion for ballet at the young age of three when she received her first pair of dancing shoes.
Throughout her childhood, Jaclyn's parents instilled in her the importance of family, which would later become a crucial aspect of her life and success.
Reflecting on her upbringing in Houston, Jaclyn remarked, "Family was and continues to be the foundation for all my happiness and success."
After completing high school, Jaclyn attended Trinity University to study drama. She quickly gained recognition for her acting skills and landed roles in productions such as West Side Story and Gentlemen Prefer Blondes.
Although she initially aspired to become a dancer, Jaclyn's career took a turn when she secured her first TV job in 1973 as a shampoo model for Breck. Her face quickly became well-known throughout the country.
In the years that followed, Jaclyn collaborated with Max Factor, which eventually led to the launch of her own signature fragrance, Jaclyn Smith's California, in 1989. Despite her success in the entertainment and beauty industries, Jaclyn's dedication to family remained a constant throughout her life.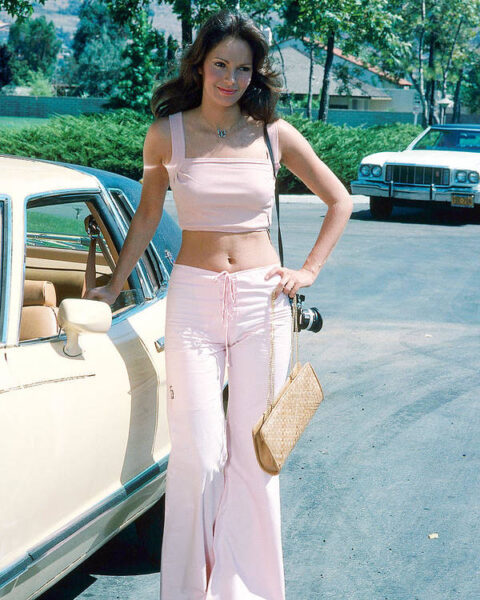 Jaclyn Smith – career
After graduating from college, Jaclyn Smith made the decision to move to New York City, a move that would prove to be a wise one.
"Being a thousand miles away from home allowed me to try different experiences, meet amazing people, refine my craft, and be open to finding the path that was right for me," she reflected.
While initially pursuing a career in dance, Jaclyn found herself drawn to acting after being cast in commercials and miniseries. As she continued to take on new roles and explore different characters, she realized that acting was her true calling and felt grateful for her successful career in both film and television.
In the early 1970s, Jaclyn landed several smaller roles in TV series and movies, such as Switch and McCloud. However, it wasn't until she was cast as Kelly Garrett in Charlie's Angels in 1976 that everything changed for her.
Although she wasn't initially confident she would get the role, Jaclyn went on to become known as the "Queen of Mini-Series" and a beloved actress on both the big and small screens. Eventually, she even had her own signature fragrance, but her journey to success was one that was shaped by her willingness to take risks and follow her passions.
Jaclyn Smith – Charlie's Angels
After her audition for Charlie's Angels, Jaclyn didn't feel confident and thought she missed the opportunity to land the role.
"I just know it wasn't my best moment. So I just got it out of my mind. I didn't even think there was a chance for me to get Charlie's Angels," she recalled.
Initially, producers were searching for a redhead to balance the blond Farrah Fawcett-Majors and brunette Kate Jackson. But after the casting was over, they realized that Jaclyn's chemistry with the other actresses was perfect.
The first episode of Charlie's Angels aired in 1976, and it quickly became a hit, featuring the crime-fighting escapades of Kelly Garrett, Sabrina Duncan, and Jill Munroe, three private detectives in Los Angeles. Although the show was controversial because of its revealing bikinis, Jaclyn didn't think much of it at the time. The series was nominated for multiple Golden Globe and Emmy Awards and ran for five seasons.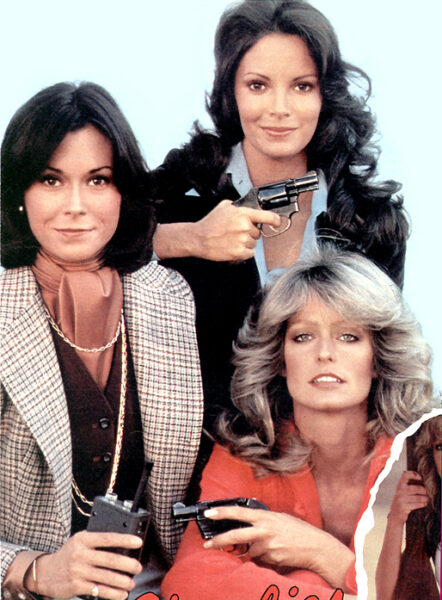 "Queen of Mini-Series"
According to IMDB, Jaclyn began on the show making $5,000 per episode. However, as the show's success grew, so did her paycheck, eventually earning almost $40,000 per episode. Additionally, the Angels were involved in merchandising spin-offs, including lunch kits, hair accessories, and dolls, which they helped design.
Despite her success on Charlie's Angels, Jaclyn didn't limit herself to the show. In 1981, the year the show ended, she starred as Jacqueline Bouvier Kennedy in a critically acclaimed television film that earned her a Golden Globe nomination.
This role helped solidify her reputation as a versatile actress, and she began to be known as "The Queen of Mini-Series." She went on to star in several other highly regarded mini-series, including Rage of Angels, George Washington, The Bourne Identity, and Family Album.
Jaclyn Smith – clothing brand
Despite receiving criticism from critics, Jaclyn Smith cherished her role as the title character in the TV movie "Florence Nightingale" (1985) the most. This was despite having several other projects to juggle at the same time.
In addition to her acting career, she also created her own line of women's clothing and accessories, which were sold at Kmart and proved to be incredibly successful. As a result, Jaclyn became an icon and a role model for many women, both in and out of show business, gradually building her brand.
Jaclyn Smith got married to cinematographer Anthony B. Richmond in 1981, and they welcomed two children: Gaston Richmond in 1982 and Spencer Margaret Richmond in 1985. However, their marriage ended in 1989, and a few years later, Jaclyn moved to the Holmby Hills area of Los Angeles with her children. She purchased a six-bedroom, six-bath Georgian Colonial mansion that needed some fixing up, and she made it a comfortable family home with a lot of natural light and surrounded by land.
Посмотреть эту публикацию в Instagram
The mansion has a tennis court and a beautiful pool, where Jaclyn's children used to play. Jaclyn's son Gaston played tennis on the court, and her daughter Stephanie used to hang out by the pool. Jaclyn also has office space for her and her current husband, heart surgeon Dr. Brad Allen.
Although Jaclyn loves 18th-century style, she made sure to include modern, comfortable upholstery pieces in her home. She renovated every room in the house except for the kitchen, which needed a complete overhaul. Today, the mansion is filled with new furniture and features a dollhouse in the garden for her grandchildren. Jaclyn frequently posts pictures of her roses and garden on Instagram, showcasing her green thumb.
Посмотреть эту публикацию в Instagram
Jaclyn Smith – family
At the age of 76, Jaclyn Smith remains youthful, thanks to the love and support of her family. She credits her wonderful upbringing, which included amazing parents and a supportive grandfather, for instilling in her a strong work ethic and a sense of gratitude.
Smith believes that her work brings her fulfillment and helps her maintain balance in life. She feels especially proud of her collaboration with her daughter, Spencer, on the Spencer baby collection, which brought three generations of women together.
Smith is blessed with a loving husband, Brad Allen, whom she married in 1997, and two grandchildren.
Her daughter, Spencer, gave birth to her first grandchild, Bea, in 2016, and her son, Gaston, welcomed his first child, Olivia Rose, in the following year. In 2019, People Magazine recognized Smith as one of their "Glam-mas," highlighting her timeless glamour and beauty. She frequently shares pictures of her lovely family on her Instagram account.
Посмотреть эту публикацию в Instagram
Love for her family
Jaclyn Smith cherishes spending time with her family, and it seems her children Spencer and Gaston, as well as her grandchildren, also enjoy being together.
"My house is always open to them," Smith shared. "Bea knows there's a drawer in my closet full of candy, and she heads straight for the gummy bears. She knows I can't resist candy.
"Bea is a little explorer. She has her own playhouse in the backyard, and we have tea parties and go outside. But Bea also enjoys unstructured time and playing by herself. We talk about flowers while we're in the yard. Olivia is still so young."
Moreover, the end of the original Charlie's Angels series in the 1970s did not mark the end of the iconic characters. Smith played Kelly Garrett once again, uncredited, in the 2003 film Charlie's Angels: Full Throttle, and reprised the role in the latest movie released last year.
Keeping legacy alive
Jaclyn Smith looks forward to revisiting her iconic role as Kelly Garrett with her family in the future, and her grandchildren call her "Mimi". While her children did not watch her show much, she hopes her grandchildren will enjoy watching it with her.
She believes it's essential for them to know their history and where they came from. Smith was diagnosed with stage 1 breast cancer in 2003 and received successful treatment, including surgery and radiation therapy.
Посмотреть эту публикацию в Instagram
Jaclyn Smith – cancer
Having successfully battled breast cancer in 2003, Jaclyn Smith, now 76, continues to amaze us with her dedication to several foundations including The Breast Cancer Research Foundation, American Heart Association, and The John Wayne Cancer Institute.
She also serves as an AbilityFirst Honorary Chair, actively fundraising and advocating for the organization.
For those going through a similar experience, Smith recommends surrounding oneself with loved ones and seeking advice from doctors and those with experience, rather than relying on information from the internet.
As she enjoys life with her family, including her children and grandchildren, we are grateful for Jaclyn Smith's wonderful career and legacy.
If you love Jaclyn Smith, please share her story with your friends and family.