Kirk Douglas, a native of New York, overcame a difficult upbringing to become one of the most renowned actors of the 20th century. Despite facing opposition from others, he remained steadfast and pursued his career on his own terms.
Although he passed away in February 2020 at the age of 103, his legacy will endure. In addition to being a respected actor who worked alongside some of the greatest in the industry, he also created a loving family and gave back to those who supported him.
Despite amassing a considerable fortune during his lifetime, his children, including fellow actor Michael Douglas, reportedly did not inherit any of his wealth. The reasons behind this decision are explored in this article on the iconic Kirk Douglas.
Kirk Douglas – tough childhood
Issur Danielovitch was born on December 9, 1916, in Amsterdam, New York, and would later change his name to Kirk Douglas in hopes of advancing his acting career.
As the only son in a family of seven children, Douglas had a difficult upbringing. His parents were Russian Jewish immigrants, and the family struggled financially. They resided in a cold, unheated clapboard house, and Douglas slept on a shabby living-room sofa.
His father, Hershel, was unable to work in the local mills due to anti-Semitic discrimination and resorted to becoming a junk dealer. In his autobiography, Douglas described his family as the poorest on their street, and he felt like the ragman's son.
There were times when the family did not have enough food to eat, and Douglas resorted to stealing from neighbors and produce stands to survive.
Also, being Jewish, Douglas was frequently ridiculed and even assaulted by local gangs. Nevertheless, he persevered, dedicating himself to improving his family's circumstances and creating a better life for himself.
Found his passion for drama in high school
He approximated that he had taken on about 40 different jobs throughout his life, ranging from being a newspaper boy to working as a dishwasher. He had a strong work ethic and would even invent jobs, such as selling soda and candy to mill workers in his town of Amsterdam, which was a major mill town without many job opportunities for Jews.
During his time at Wilbur Lynch High School, now known as Amsterdam High School, Kirk Douglas discovered a passion for drama thanks to his English teacher, Louise Livingston. Despite the social stigma against liking poetry and aspiring to become a great actor, Mrs. Livingston encouraged him to pursue his dreams by sending away for college and drama school catalogs. Douglas fondly remembered her as a cool and collected teacher who only showed emotion when reading poetry, and she kept him after school to read poem after poem together.
Although he tried to save every penny for college, Douglas couldn't afford the tuition on his own, so he took a risk and hitchhiked 200 miles to St. Lawrence University in Canton, New York.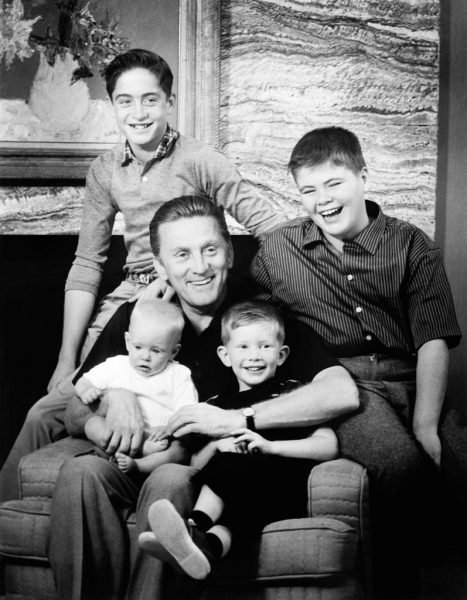 Kirk Douglas – Broadway debut in 1941
Accompanied by his high school awards, transcripts, poems, and a recommendation letter from Mrs. Livingston, Kirk Douglas arranged a meeting with the head of the faculty at St. Lawrence University. Using his persuasive skills, he managed to secure a scholarship.
During the summers, Douglas honed his acting skills at the Tamarack Playhouse on Lake Pleasant, where he eventually decided to change his name. After his friends suggested that he adopt a more American-sounding name, Douglas settled on the surname "Douglas" and, after some deliberation, chose "Kirk" as his new first name for its connotations of strength and masculinity.
As he continued to improve his acting abilities, Douglas landed his first Broadway role in the musical "Spring Again" in 1941, which was followed by more roles on Broadway. However, before he achieved his big breakthrough, world events occurred that would alter the course of his life.
With the advent of World War II, Kirk Douglas wasted no time in enlisting. Motivated by a surge of patriotism and his Jewish identity, he joined the Army as a pilot. However, he ultimately served as a communication officer on a submarine.
Unfortunately, in 1943, an incident on one of the submarines left Kirk Douglas hospitalized and injured. He was later diagnosed with amoebic dysentery, which led to his discharge from the Navy with the rank of junior grade lieutenant.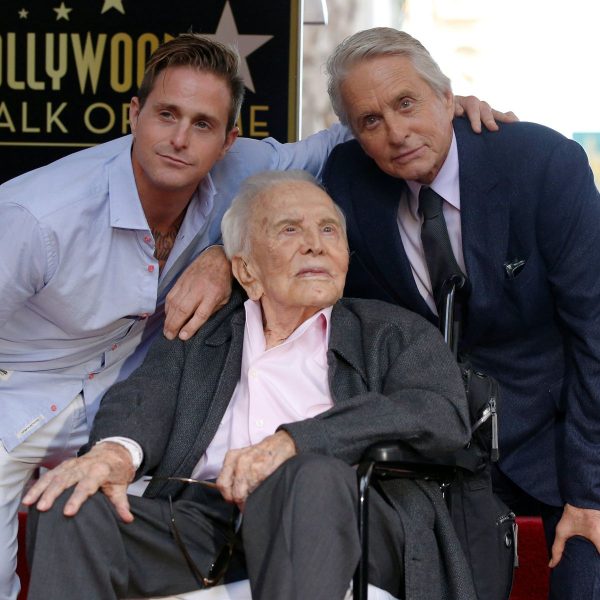 Kirk Douglas – classic films & Academy Award nominations
Kirk Douglas returned to the US to pursue his show business career, but an illness destroyed his singing voice, which could have ended his career. Despite this setback, he caught the attention of Hollywood producer Hal Willis at one of his shows, who cast him in the 1946 film The Strange Loves of Martha Ivers.
This marked a turning point in Douglas's career, leading him to become a Hollywood legend. In 1949, he earned his first Academy Award nomination for Best Actor in a Leading Role for his portrayal of boxer Midge Kelly in the film Boxer. Although he received two more nominations for The Bad and the Beautiful (1952) and Lust for Life (1956), he never won a competitive Oscar for his performances. Nevertheless, he was honored with an honorary Oscar in 1996 for his 50 years of contribution to the film industry.
During the 1950s, Kirk Douglas had already been married to actress and model Diana Dill, with whom he had two children. However, he met the love of his life just three years later and remained married to her for the rest of his life.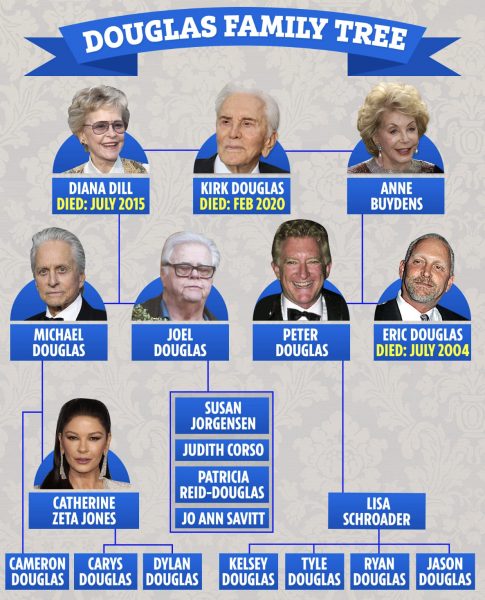 Kirk Douglas – family, wife, children
During his filming in Paris, Kirk Douglas first met Anne Buydens, who was helping with the press. Despite his initial attempts to impress her, she turned him down. Kirk, who was already a big movie star with two Oscar nominations, believed that any woman would be flattered if he asked her out, but Anne had her reservations.
She had seen many young women fall in love with American movie stars who left them behind when their pictures wrapped. Having survived the war in occupied Paris, Anne instinctively knew how to protect herself from such dangerous situations.
Kirk eventually found a way to get close to Anne by convincing her to do publicity for his 1953 film Act of Love. As they worked together, they fell in love, and in 1954, they got married. They went on to have two children, Peter and Eric Douglas.
All of Kirk Douglas's sons pursued careers in the film industry, with Michael Douglas achieving the most success. As a two-time Academy Award-winning actor, he appeared in acclaimed films like Wall Street, for which he won an Oscar for his role as Gordon Gecko, as well as Falling Down and Wonder Boys.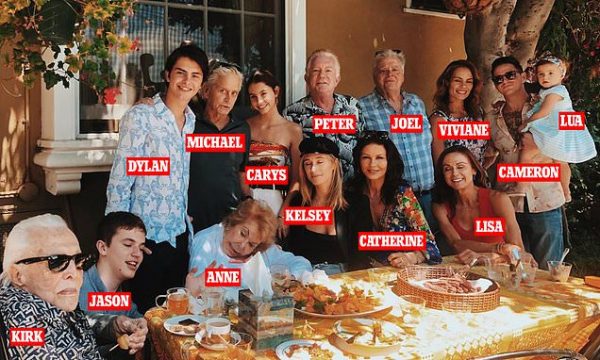 Despite Michael's accomplishments, his relationship with his father was not always smooth. In an interview with the Associated Press, Michael refused to refer to his father as "dad."
Rift with son, Michael Douglas
During the period when Kirk Douglas was making five movies a year, he was consumed by his work and overworked, much like Michael Douglas had been at a certain point in his life.
In 1975, Michael and Kirk's strained relationship became even more fraught when Kirk, who owned the rights to the film "One Flew Over the Cuckoo's Nest", agreed to sell them at Michael's urging. However, when Michael, now the producer, began casting for the lead role of Randle McMurphy, he did not choose his father, despite Kirk having played the part on Broadway.
Kirk recounted in an interview with The Guardian how Michael broke the news to him, saying, "Not you, Dad. You're too old." Kirk was shocked and incredulous, responding, "Who's playing my part? Jack Nicholson? Never heard of him. Well, at least it will be a flop."
Their relationship did not improve when the film went on to win multiple Academy Awards, with Michael winning Best Picture as the film's producer and Jack Nicholson winning Best Actor.
Kirk Douglas – cause of death & net worth
Kirk Douglas, the lead actor in the 1960 classic film Spartacus, became an iconic star of Hollywood's golden age, starring in over 90 films throughout his career. Despite not winning an Oscar himself, Spartacus won four Academy Awards and helped propel Kirk to the top of the Hollywood ladder.
Kirk's final role was in the 2008 TV film Empire State Building Murders before passing away on February 5, 2020, at the age of 103. At the time of his death, his estimated fortune was $61 million, but he left a lasting legacy by donating his entire wealth to various causes.
Notably, he gifted $50 million to St. Lawrence University, his alma mater, and substantial amounts to the Sinai Temple of Westwood, the Kirk Douglas Theatre, and the Children's Hospital Los Angeles. These institutions had previously received donations from Kirk and his wife Anne through their foundation, which aims to assist those in need.
Despite being a true Hollywood legend, Kirk's philanthropic efforts will continue to impact the lives of many for years to come.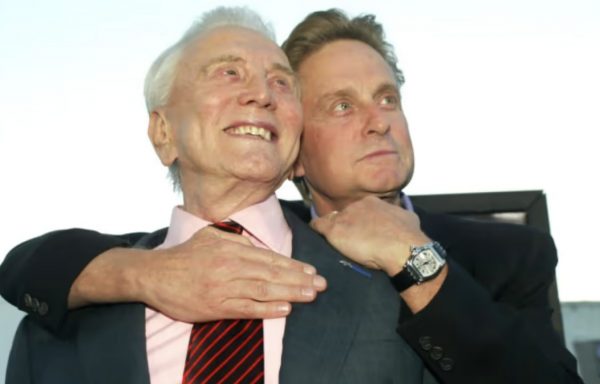 Michael Douglas reportedly didn't inherit one penny
According to Page Six, Michael Douglas, despite being worth approximately $300 million, will not be inheriting any money from his late father. Nevertheless, Michael has praised Kirk's character and generosity, despite their past conflicts.
In a statement, Michael acknowledged his father's remarkable life and legacy as a philanthropist, who made substantial efforts to better the world and will continue to inspire future generations through his cinematic works.
Kirk Douglas's challenging upbringing did not deter him from paving his own way to stardom during Hollywood's golden era. May he rest in peace.
To commemorate the late Kirk Douglas, please share this article with your loved ones on Facebook.