A man recently shared how he took revenge on a fellow airplane passenger who repeatedly extended her 'malodorous feet' beneath his seat during their flight.
@danielgreen2426, a TikTok user, garnered widespread attention last week when he posted a video of himself pouring a soft drink onto the woman's exposed foot.
The 38-second clip displayed the passenger's left foot protruding from beneath his seat as she reclined behind him.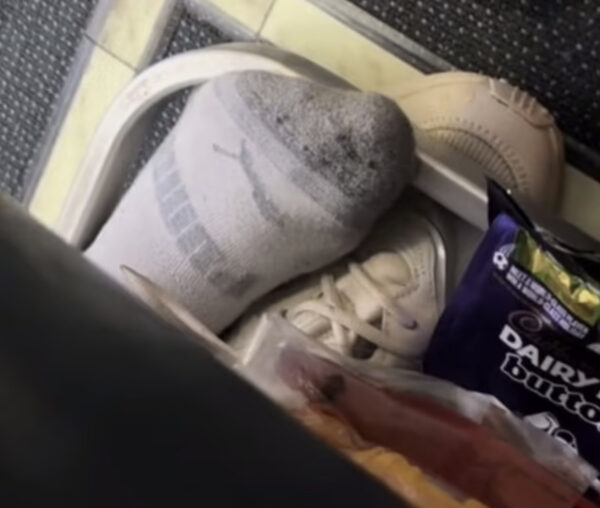 The frustrated content creator held his soda can over her sock and released a sizable drop onto her big toe.
She wiggled her foot briefly but didn't retract it. Daniel attempted once more, allowing even more liquid to trickle onto her toes.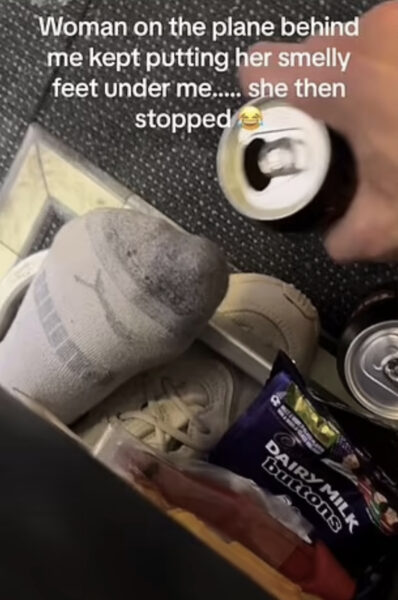 The passenger squirmed in confusion, eventually pulling her foot out from under his seat.
In on-screen text, he explained, 'The woman behind me on the plane kept putting her smelly feet under me… then she stopped.'
Although their destination remains unclear, a bag of Cadbury Dairy Milk Giant Buttons candy found beneath the seat suggests that they may have boarded from a United Kingdom airport.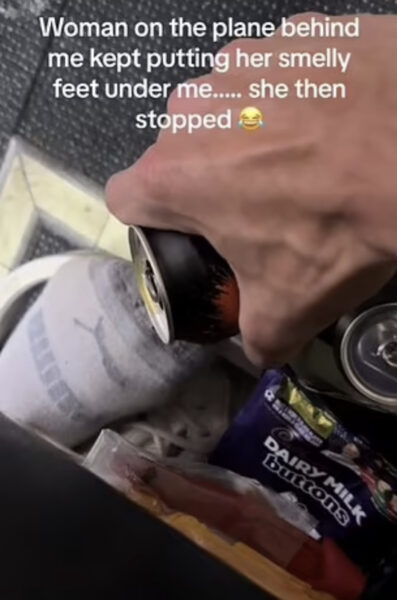 Since its posting last week, the video has accumulated over 256,000 views and likely sparked a considerable amount of debate.
Daniel chose to disable comments on the video.
Nonetheless, this unidentified woman is not the first individual to face social media scrutiny for removing their shoes and making themselves a bit too comfortable on a flight.
Just last month, a passenger on a crowded Delta flight was publicly criticized for boldly placing her feet on top of a headrest.