Each moment a parent shares with their child, from infancy to adulthood, holds immense value, forging an unbreakable bond and fostering emotional security and trust as the child matures.
When both mother and father are actively engaged, the journey of parenting becomes all the more delightful.
In a recent heartwarming TikTok video, a new mother expressed how "teamwork" has been a crucial support during her postpartum period. She showered praise on her husband, showcasing a touching moment where he was nurturing their newborn, Zoe, in a unique way.
Посмотреть эту публикацию в Instagram
Zion Lamm and her husband Kevin, both doctors, celebrated the arrival of their precious baby, Zoe, on May 6, 2023, after seven years of marriage. Zion, who is also a skincare influencer on social media with nearly 718,000 followers, has been candidly sharing her experiences of postpartum challenges and her recovery from a C-section.
Throughout this journey, she's had the unwavering support of her loving husband. On August 10, she posted an endearing video capturing her husband cradling their daughter while sitting on the bed.
This heartwarming clip, aptly titled "teamwork babyyyy" by Zion, was synchronized with the popular TikTok audio "Thank you to my man" and garnered an astounding 2.3 million likes. Fans from around the world couldn't help but comment on the evident affection between the father and his infant.
"This is incredibly attractive. You've got yourself a wonderful partner, girl! He's such a fantastic father," wrote one admirer, while another chimed in, "Simply beautiful. Keep nurturing those bonds."
A third observer exclaimed, "Wow…that's just too adorable."
While the sight of the handsome father caring for his baby is heartwarming enough to captivate online users, what truly piqued their interest was the green contraption draped over his shoulder, which facilitated his baby's breastfeeding.
With a firm grip on baby Zoe's head using both arms, the devoted father focused entirely on his child. Meanwhile, Zoe gazed up at him as she sipped from a bottle securely cradled within the breastfeeding device.
Some users expressed curiosity about the device Kevin was utilizing, known as the Beebo, a hands-free baby bottle holder.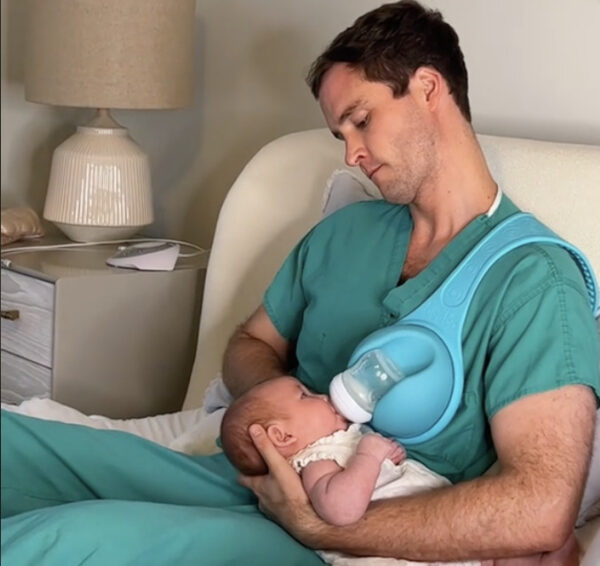 "My husband once joked about improvising something like this for our babies, and when I showed him this, he insisted we get one for our future kids," wrote one enthusiast. Another user marveled, "Who came up with this? It's sheer genius!"
Nevertheless, not all netizens were equally charmed, with some unable to see past the father's choice of attire. One user voiced her displeasure, stating, "Why is he wearing scrubs on the bed?" while another added, "I have a thing about not allowing outside clothes in my bed. I can't imagine being in bed with scrubs, lol."

However, others swiftly rushed to defend the loving father. "People are so focused on the scrubs, but I see a father bonding with his child," one supporter remarked. Another reminded the online community that he is a doctor who would undoubtedly prioritize hygiene: "Those could be his clean scrubs before work. He's a doctor and certainly aware. He's both helping and bonding. That deserves an A in my book.
The bond between a father and his daughter is irreplaceable, and it's heartening to witness Kevin Lamm fostering this connection from such an early stage. Dads often don't receive the recognition they deserve, and we're grateful that Zion shared this video so we can all witness the wonderful father he is!

Before sharing your thoughts on this story, take a moment to reflect on it, and then share it with others to hear their perspectives on this devoted dad!