Pierce Brosnan, widely recognized as James Bond, has had a thriving career in the entertainment industry. Despite his iconic portrayal of the suave spy, his personal life off-camera is distinct.
At the age of 69, Brosnan has garnered a substantial global fan base due to his remarkable success.
Pierce Brosnan's former title as "The Sexiest Man Alive" doesn't come as a surprise considering his charisma. But when it comes to matters of the heart, the renowned actor's devotion is solely reserved for his wife, Keely Shaye Smith.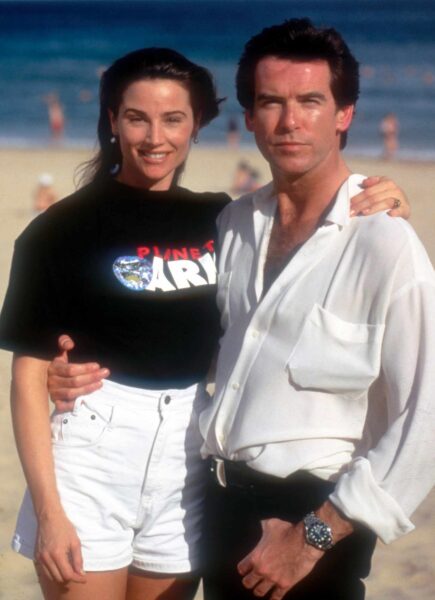 According to reports, the couple first crossed paths at a party in Cabo San Lucas in 1994. Their connection was instant, and Brosnan fondly remembers, "No matter where I traveled, I longed for her presence and would send her tickets so we could be together. It just felt like we were meant to be."
Pierce Brosnan is a proud father and grandfather, with a total of five children and three grandchildren.
Throughout his life, the actor has faced his share of heartache, enduring the devastating loss of his wife and, tragically, his daughter years later to the same illness. However, despite these challenges, Brosnan can reflect on his achievements and experiences with few regrets.
It's hard to believe that the Goldeneye star has reached a stage in his life where he is expected to prioritize domestic bliss and step away from the spotlight. One of the most striking reminders of this transition is observing his children, who have grown into independent adults pursuing their own careers.
At 21 years old, his youngest son, Paris, bears an uncanny resemblance to a young Pierce Brosnan, emphasizing the passing of time.
"He's the best coach they could have ever asked for," Paris said.
View this post on Instagram
The Brosnan brothers, Dylan and Paris, had a relatively private upbringing, shielded from the public eye. As a result, fans of their father were taken aback when they saw them as fully grown men.
Paris, in particular, caused a stir when he made an appearance at the Golden Globes ceremony. Internet users couldn't help but marvel at the striking resemblance he bears to a younger version of Pierce.
Whenever Pierce and Paris are seen together, social media platforms become inundated with comments about their uncanny similarity.
View this post on Instagram

As mentioned, Paris is a model, which comes as no surprise given his exceptional genes. However, he is also a compassionate individual with a strong desire to make a positive impact in the world. At 21 years old, he created a captivating documentary after a trip to Sri Lanka, showcasing the charitable endeavors of the UN World Food Program.
In the documentary, Paris documents the WFP's visits to schools and farms in the country, shedding light on their efforts to combat child hunger. His intention was to inspire and raise awareness about this crucial issue.
Pierce's two sons had the honor of gracing the cover of GQ Korea in May. While their striking looks and talent in front of the camera may suggest a future in the entertainment industry, both of them reportedly prioritize their studies.
View this post on Instagram
Dylan has obtained a university degree from the USC School of Cinematic Arts. On the other hand, Paris, who is also a passionate artist, showcased his paintings in his first exhibit at Art Basel Miami in 2021.
When it comes to their father's influence, both Dylan and Paris speak highly of him. In a 2020 interview, Dylan expressed their pride in carrying on their dad's legacy and becoming part of the remarkable roster of previous Golden Globe Ambassadors, many of whom have pursued their own dreams in the entertainment industry.
Dylan further emphasized the valuable lesson their dad instilled in them, which is to be kind. This principle played a crucial role in their decision to study filmmaking and their desire to tell impactful stories. Dylan and Paris consider it a privilege to use their platform to shed light on children experiencing hunger, focusing the spotlight on important societal issues.
These days, Pierce Brosnan focuses on cherishing moments with his family and close friends. To maintain a sense of privacy, he purchased a hidden residence in Hawaii, away from the public eye.
The actor has also devoted himself to his passion for art. Earlier this year, he delighted fans by sharing glimpses of his studio and showcasing his impressive artwork, creating quite a buzz.
View this post on Instagram
Their house, situated on a stunning oceanfront strip in Kauai, Hawaii, occupies a vast five-acre plot of land. The family acquired the property in 2002 and has divided their time between Hawaii and their lavish mansion in Malibu, California.
View this post on Instagram
During the COVID-19 pandemic, the family spent extended periods in Hawaii, immersing themselves in activities that allowed them to connect with nature.
Personally, I'm a big admirer of Pierce Brosnan. He is truly fortunate to have a wonderful family, and I extend my best wishes to them for the future.
View this post on Instagram
If you're also a fan of Pierce Brosnan, feel free to share this article on Facebook!