Hanging at the beach can be just a way to spend your summer vacation, or it can be a source of vivid impressions and endless inspiration. It all depends on which place you'll choose.
So, here are 5 of the most beautiful European beaches, tailored to travelers of every stripe. They've all got stunning scenery and fantastic ocean views. Take your sunscreen, swimsuit and sunglasses and get ready to discover the most picturesque beaches in Portugal, Croatia, Spain, Greece, and Italy!
Berlenga Grande Beach, Peniche, Portugal
The island of Berlenga Grande, which is part of the Berlengas archipelago, is located 10 kilometers off the coast of Peniche. It is a real natural paradise, which is maintained in almost pristine condition. The only inhabitants who stay on the island all year round are the staff responsible for the maintenance of the lighthouse and natural reserve. However, from May to October, the island is daily visited by sea transport from Peniche.
Berlenga Grande is the ideal destination for those looking for tranquility, privacy, and peace. Especially since no more than 350 people can visit the island at the same time.
After relaxing on the beach, be sure to take a walk along the hiking trails, explore the caves, visit the fortress of the Berlengas, or simply find a cozy place from where you can enjoy the view.
Stiniva Beach, Vis, Croatia
Relaxing on the beach of the island of Vis is an unforgettable experience that can hardly be compared with anything. Stiniva Beach is hidden in a tiny bay, beyond which the endless blue of the Adriatic Sea begins. Regardless of whether you are going to spend your entire vacation on the island of Vis, stop by to see this place with an excursion, or just set on a small cruise to the thinly populated, however rich in nature, islands of Croatia, you will be impressed.
Interestingly, Stiniva attracts the attention of not only travelers: this place is recognized as a geomorphological natural monument and protected by law.
San Sebastian's beaches, San Sebastian, Spain
The coastal city of San Sebastian is a popular European resort, which is chosen by those who want not just to spend some time at the beach, but also to enjoy a vacation in an exquisite place. These are the conditions provided by San Sebastian, which is considered by many the brightest jewel of the Basque Country and even the most beautiful Spanish city.
La Concha is a world-famous shell-shaped bay that offers several beautiful beaches for all tastes. The same-name beach is the most famous one, Ondaterra Beach is preferred by families, Zurriola Beach is chosen by young people and surfers, and a small stretch of coastline on the islet of Santa Clara attracts those who love secluded places.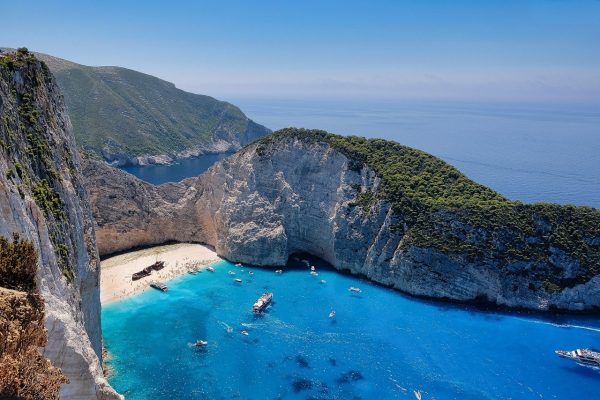 Navagio Beach, Zakynthos, Greece
On the northwestern coast of Zakynthos, there is one of the most scenic bays on earth with a sun-soaked beach known as Navagio. This stunning place is surrounded by an impregnable sheer cliff, and therefore you can only get here from the sea.
What's more, you're going to have an exciting voyage to the bay. The fact is that the local seawater is bright blue due to its high content of calcium. Excursion boats bring here tourists who look forward to a serene vacation: massive rocks protect the bay from the wind, and therefore you'll feel calm and relaxed in this safe and peaceful place.
Rotonda Beach, Tropea, Italy
The beach is about 250 meters from the Sanctuary of Santa Maria dell'Isola. The combination of crystal-clear seawater, snow-white sand, blue sky and a little church on its rocky perch is irresistible. This spot will suit both those who are looking for the best beach destination and those who like to explore the underwater world, teeming with numerous species of fish.
If you're tired of just lying on the beach, you can spend a few hours exploring Tropea's multifaceted attractions. Olive and citrus groves, along with numerous vineyards, provide excellent conditions for hiking, while the historic center of the town invites you to walk along its romantic streets and take a look at its old churches and ancient architecture.