Emaciated, Balding, and Abandoned: A "Werewolf" Stands Alone on the Side of the Road for Months
The creature's skin was rough and flaky, with a broken and pointed tail.
His tattered black fur stood straight up on his neck, while his thin and weak body suggested that he hadn't eaten a proper meal in weeks.
For months, he lingered around an orchard in Madera Ranchos, California, but no one knew anything about him except for his alarming appearance.
The locals dubbed him "Werewolf," as his mysterious species caused fear and suspicion among those who saw him. The poor dog was completely alone, and his intimidating appearance kept people from approaching him, leaving him to fend for himself.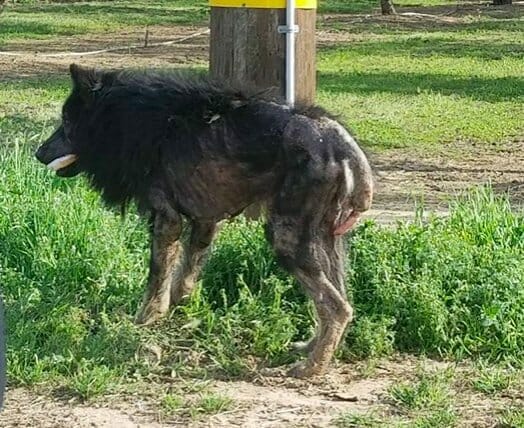 In late March, an observant passerby spotted the dog and quickly shared a post about him on Facebook from her car.
Upon noticing the canine's deteriorating condition, the woman decided to stay close to him until help arrived. Fortunately, another animal advocate, Megan Bowe, soon arrived at the scene.
"When I saw his condition, I was overcome with emotion," Megan Bowe, founder of Bowe's Adoptable Rescued Pup, recounted to The Dodo. "He was barely hanging on. He appeared sad and struggled to stand."
Megan quickly identified the "werewolf" as a German shepherd mix in dire need of medical attention. She named him "King" and transported him to an emergency veterinary clinic for immediate care.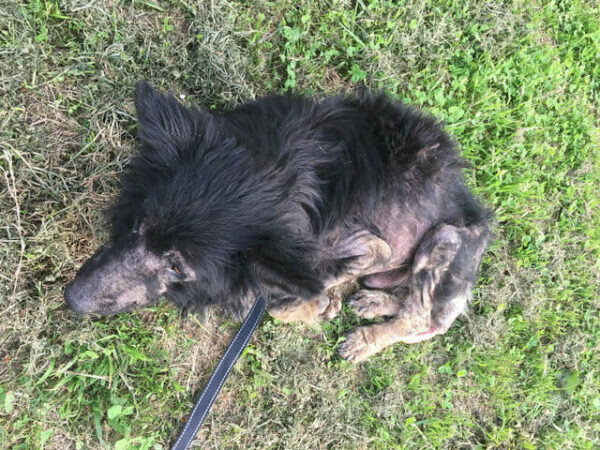 Megan was a lifesaver for King, who appeared to be visibly relieved to have finally received assistance. Without hesitation, he accompanied her to the veterinarian's office.
Upon examination, the veterinarian discovered that King had a host of illnesses and injuries. His most severe ailments were scabies, a broken pelvis, and a fractured tail.
Despite his aged appearance, King was only one year old.
According to Megan Bowe, her veterinarian suspected that King had been struck by a vehicle, which may explain the extent of his injuries. The tail injury had occurred months before she found him, and it had begun to heal improperly by then. As a result of his damaged pelvis, King could not travel far to forage for food, leaving him severely emaciated and dehydrated.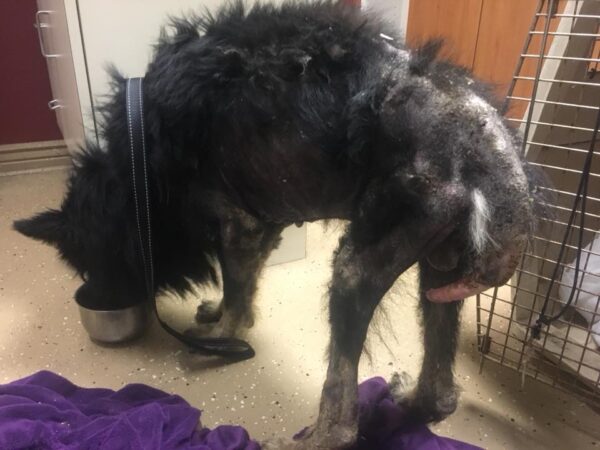 Due to King's contagious illnesses, Megan established a quarantine zone in her garage to allow him to recuperate without infecting her other animals.
Megan gradually increased King's food portions from small amounts to aid in his healthy and steady recovery of weight and strength.
Prior to the surgical procedures on his pelvis and tail, King required all the strength he could muster.
Despite being frail and injured, King expressed gratitude towards Megan.
As Megan settled down, King leaned his head on her, as if to offer a warm embrace.
Megan remarked, "He is an extremely affectionate dog."
She also observed that King remained composed and at ease throughout his rehabilitation journey.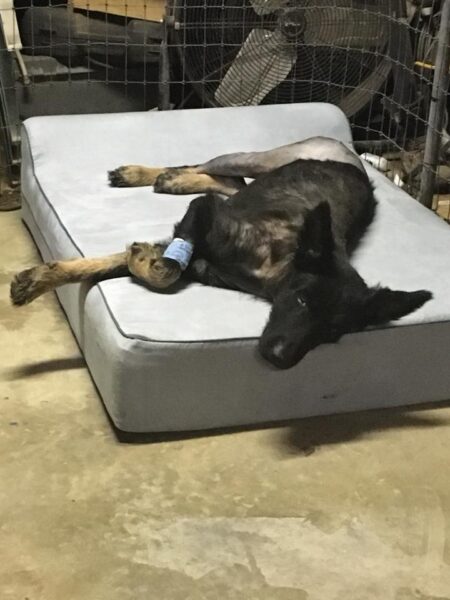 Following a month of treatment, King's condition began to show signs of improvement. His mange was eradicated, and he regained his physical strength.
A few weeks ago, King was deemed healthy enough to undergo surgical procedures on his pelvis and tail.
Thankfully, the surgeries were successful!
To strengthen his leg, King now goes for daily walks, as instructed by his veterinarian.
By month's end, King will revisit the veterinarian to assess his healing progress and have his sutures removed. If required, he may also require an operation on his other hip following his recovery from the initial procedures.
Although King's journey was lengthy, his progress is considerably better than it was a few months ago, providing a ray of hope in an otherwise bleak situation.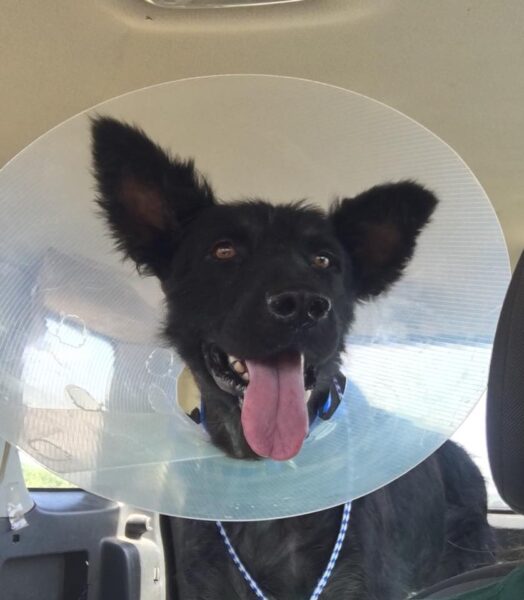 King, who was once a scary "werewolf" that people feared, is now a completely different dog. Megan reports that he will be fully recovered in a few months and ready for adoption.
In the meantime, King is enjoying his new life, which includes eating doggie ice cream, going for walks, and riding in the car with the windows down.
Megan is amazed that people could pass by a sick and malnourished dog like King without stopping to help. She believes that the difference between a coward and a hero is sometimes just one step.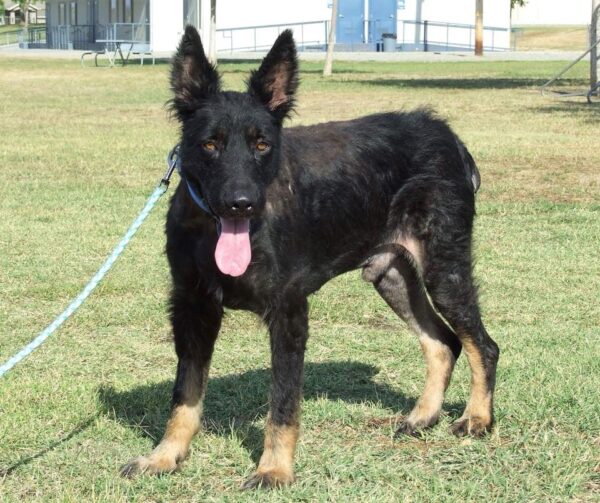 Thanks to Megan and other animal lovers who refuse to turn a blind eye to animal mistreatment or neglect, King will now have a good life, something that every dog deserves.
Please like and share this article with your animal-loving friends on Facebook to spread positivity and joy.