High school talent shows serve as the perfect platform for students to display their remarkable abilities.
Despite the potentially daunting prospect of performing in front of a sizable audience, it remains one of the most effective means to gain recognition among peers.
Brett Nichols, a young prodigy, left his fellow students, teachers, and onlookers utterly mesmerized with his electrifying rendition of Michael Jackson's 'Billie Jean.'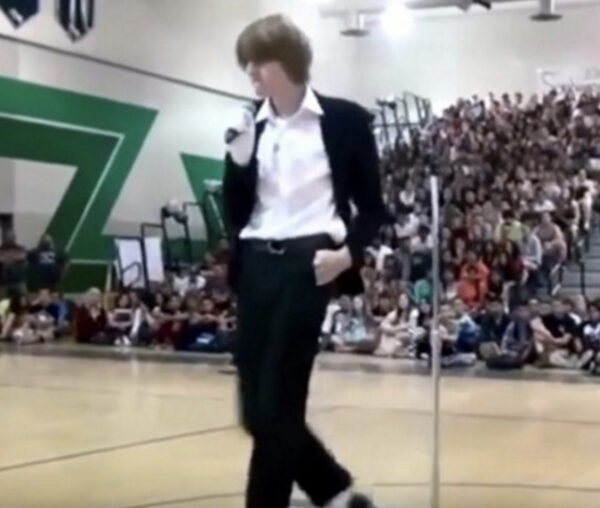 What set his performance apart was the impeccable precision with which he replicated the iconic moves of the King of Pop, seemingly defying gravity, much like the legendary artist himself once did.
The audience erupted in fervent applause as Brett executed the breathtaking choreography. His attire, featuring a sharp black suit, a black hat, and white socks—a combination synonymous with Michael Jackson—added to his splendid portrayal of the iconic entertainer.
What truly astonished the audience was the apparent ease with which Brett glided across the stage, especially when emulating the signature moves of the 'Bad' singer.
The video of Brett's remarkable dance performance has captivated millions of viewers, amassing tens of millions of views. Viewers couldn't help but marvel at Brett's seemingly effortless moonwalk and stunning routine—a feat that required immense courage, even if executed flawlessly.
As expected, Brett secured the top spot in the talent show, establishing himself as the most celebrated dancer in his school.
His stellar performance at Pitman High School in Turlock, California, served as a springboard for Brett to further exhibit his extraordinary talents. He graced prominent stages such as NBC, CNN, and ABC News' 'The View.' Moreover, he ventured into the realm of Michael Jackson cover bands, a testament to his unwavering dedication to preserving the King of Pop's legacy.
It's undeniably heartening to witness someone boldly unveil their talent—it's no small feat!