Braden West was born with a rare and severe form of Pfeiffer syndrome, Type 2, that caused abnormalities in his skull and brain development. Two weeks prior to his birth, Braden's mother, Cheri, was informed of the devastating news.
In an interview with News Nation Now in 2020, Cheri spoke about the fear and uncertainty she experienced: "I was praying for God to take him home, as I could feel him kicking inside me. It was a dire situation, as it appeared that he wouldn't have the back of his head and would be born with teeth."
But as soon as Braden was born, Cheri formed a deep bond with her special boy. However, she also felt helpless in her efforts to save him. Unfortunately, many children with Braden's condition do not survive past birth, and in Braden's case, he was only expected to live for 18 months at most.
"I prayed to God and asked him to let me have Braden for just a little while," Cheri recalled.
Cheri spoke to The Owensboro Times and shared a photo of Braden at birth, highlighting the distinct clover shape of his skull. "At one month old, we were allowed to bring him home," she said. "Despite the fact that he wasn't thriving, the doctors knew he wouldn't survive in the hospital, so we took him home to introduce him to our loved ones."
But despite the odds stacked against him, Braden has been making remarkable progress since his birth. Thanks to the support of his loving family, he has defied expectations and started to show signs of improvement.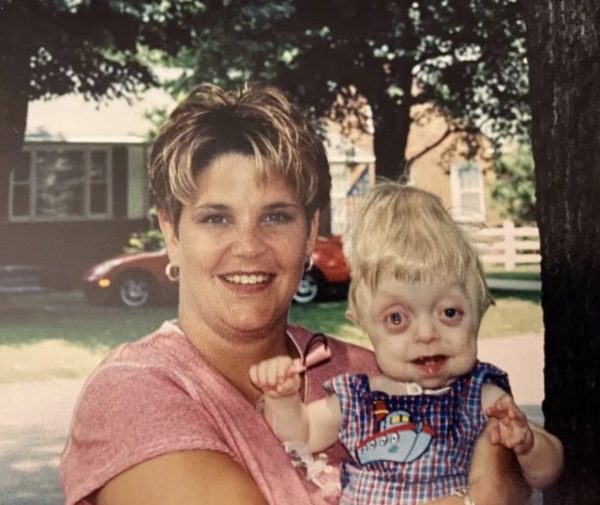 "Braden underwent over 30 surgeries and received a tracheotomy at just 3 months old," Cheri stated. "There was even a procedure he underwent with only a 10% survival rate. We had to sign do-not-resuscitate papers and prepare for the worst, but to our surprise, the doctors emerged with good news – Braden was okay."
In addition to the support of his family, Braden formed a special connection with registered nurse Michele Eddings Linn. When Braden was a baby, his health declined and his future looked uncertain. But with faith in God, Cheri and her family were able to overcome the difficult challenges.
"People were praying for us, and it's amazing what you can get through with faith," Cheri said.
Michele was with Braden the night he came close to losing his life. "I remember praying, 'Lord, either take him home or make him better,' because no one could bear to see him suffer any longer," she said.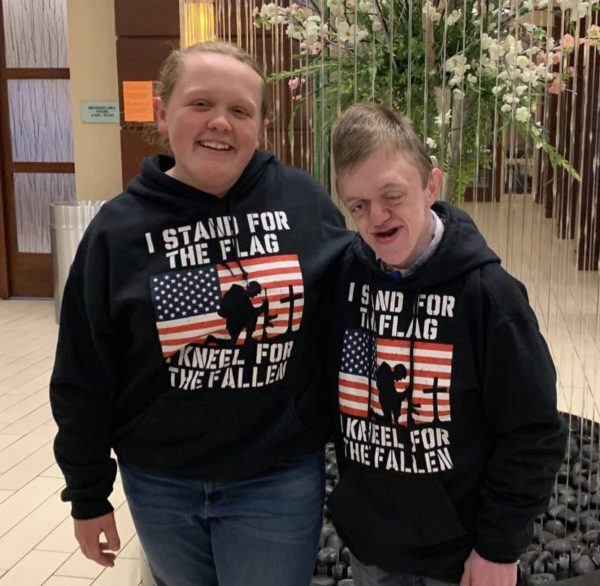 Michele was overjoyed when Braden pulled through that night, as he became her first patient to leave hospice care. The bond between Braden and Michele grew so strong that Braden even asked her, whom he referred to as his "angel," to take his senior photos.
"17 years ago, I cried because I thought his time on Earth was ending, but now I'm crying because he's graduating from high school and his life is just beginning!" Linn wrote on Facebook.
"Watching him become this amazing young man has been emotional, but I am so proud," Cheri told The Epoch Times. "When I saw him walking across the stage, every emotion from the first few months of his life came flooding back. I never thought he would be able to hold a pencil, speak, see, or hear, but here he is, doing all those things."
To commemorate Braden's extraordinary accomplishment, his parents arranged for him to be flown in by helicopter to the middle of a live concert featuring one of his favorite musicians, country singer Cam Thompson. Braden, who persevered through many obstacles, referred to his graduation day as "perfect."
"I'm proud of myself for working hard and overcoming difficulties to reach this day," Braden said. Despite the challenges he faced, including walking with a walker until he was five and needing therapy to learn to walk on his own, Braden is now a member of the Civil Air Patrol unit in Owensboro, Kentucky.
With the firefighting profession being his lifelong dream, Braden is living it out as a volunteer fireman with the Moseleyville Fire Department. Cheri, Braden's mother, notes that her son's achievements serve as an inspiration to others who face seemingly insurmountable odds.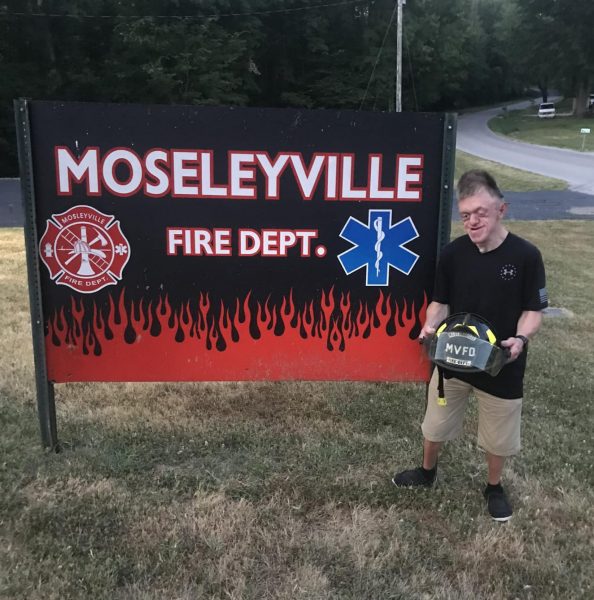 "Never give up, no matter how difficult the journey may seem," she said. "Keep climbing because the view from the top is truly amazing." Braden's faith and determination have not only helped him survive but also thrive, as demonstrated by his outstanding academic performance.