In this era of social media dominance, we are incessantly exposed to images of seemingly flawless individuals, intensifying the superficiality of society's judgments.
For those of us who deviate from the conventional notion of "perfection," the world can be an unkind place, where strangers feel compelled to pass ruthless comments solely based on appearance within the realms of social media.
Karine de Souza, a Brazilian woman, understands this reality better than anyone else. Throughout her life, she has diligently shielded her skin with SPF100 sunscreens, even when indoors, owing to her extraordinary skin condition.
View this post on Instagram
The 33-year-old woman received a diagnosis of Xeroderma Pigmentosum at the age of three, a condition that puts her at a high risk of developing skin cancer. This rare and incurable condition makes her extremely sensitive to UV rays, as her skin lacks the ability to repair sun damage.
Even a few minutes of sun exposure can result in excruciatingly painful sunburn for her. Throughout her childhood, she was often confined indoors, isolated from the outside world, due to the dangers posed by extended time spent outdoors.
"When I expose my skin to sunlight, I don't feel any immediate effects," she explains. "However, lesions appear later on, which need to be removed due to the risk of cancer."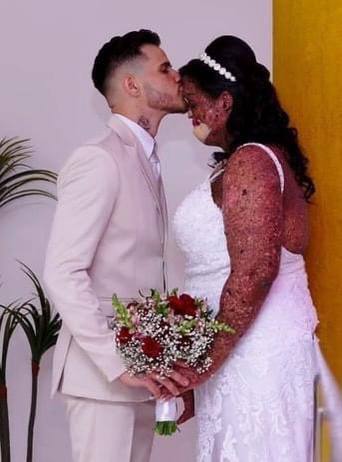 Karine has undergone a staggering 130 surgical procedures to remove sun-induced lesions, including the loss of her lower lip and a portion of her nose.
Tragically, Karine's challenges extend beyond the physical realm. She frequently experiences stares and has been subjected to verbal abuse both in her community and online.
However, despite the hardships she endures, Karine maintains a positive outlook and radiates happiness. She has even found love in her life.
Through social media, Karine connected with Edmilson, her now-husband, who was captivated by her "story and strength." Edmilson has been a steadfast presence in Karine's life, standing by her side unwaveringly, and he knew he wanted to spend the rest of his days with her.
View this post on Instagram
In addition, Edmilson embraced Karine's three children from her previous relationship, a gesture that deeply touched Karine's heart.
"He came into my life and showed me the possibility of a genuine love story," she expresses gratefully.
However, when Karine shared photos of her and her partner online, she once again became the target of a barrage of offensive comments.
According to the Daily Mail, Karine revealed, "We have encountered numerous hurtful comments referring to me as a monster, deformed, or even a zombie."
Some comments insinuated that their relationship was not genuine and that Karine was a "sugar mommy," implying that she must be exceptionally wealthy.

Karine expressed her thoughts, saying, "Due to the fact that he is a young and attractive man, it caught people's attention, and they struggled to believe that he was genuinely interested in me."
View this post on Instagram
A photographer who captured the couple's engagement moments shared a selection of the images online along with a heartfelt message:
"In a world where superficial appearances often overshadow true emotions, their meeting was not a coincidence but a convergence of souls. It was an encounter marked by acceptance, character, and love. When their souls intertwined, they became an inspiration to countless individuals who have lost faith in themselves, in life, and particularly in love.
"Every day, I am grateful for who you are. Embrace yourself without complaint. Embrace life and accept yourself. Thank you for teaching me invaluable lessons. You both are truly extraordinary. You represent the hope that many people are missing. Thank you for the warm embrace and the unforgettable day we shared. Your smiles will forever be etched in my heart."
View this post on Instagram
The heartfelt message and stunning photographs captured by the photographer quickly spread like wildfire, going viral and prompting thousands of people to express their congratulations to the couple.
Karine emphasizes the importance of maintaining a positive outlook and wants others to understand its significance. "Choose happiness, wear a smile, because life is a precious gift that comes only once," she encourages.
In 2023, Karine and Edmílson's joy multiplied as they welcomed their long-awaited baby girl, Zaia, into the world. Their journey to parenthood had begun in 2020, and the arrival of their daughter brought them immeasurable happiness.
Despite enduring immense challenges, Karine's unwavering positive attitude has led her to the happiness she truly deserves.
Her story serves as an inspiration, and we encourage you to share it with your friends and family, helping us spread inspiration and hope to those facing similar situations.